Most Competition Hulls (Not Scout)
Traditional
Chopper Gun Construction
50-year Old Technology
Chopper Gun Construction
10-20% Weight Variance
Poor/Inconsistent Profile
Approx. 90% of Boats Built Today Use Some Form of This Process
Approx. Cost to Build = $1.48/lb
Approx. Weight = 4.2 lbs/sq ft
Stiffness = 16.5K lb-sq in/in
Post Cured During Ownership
BEST
Epoxy-Infused E-Glass
(Scout 33'-35')
Advanced Technology
Epoxy Infused E-Glass
2-3% Weight Variance
Great Profile
Approx. 3% of Boats Built Today Use This Process
Approx. Cost to Build = $5.20/lb
Approx. Weight = 2.4 lbs/sq ft
(Approx. 34% Lighter than Traditional)
Stiffness is approx. 4X Stiffer than Traditional
Post Cured in the Mold w/ Thermo Couplers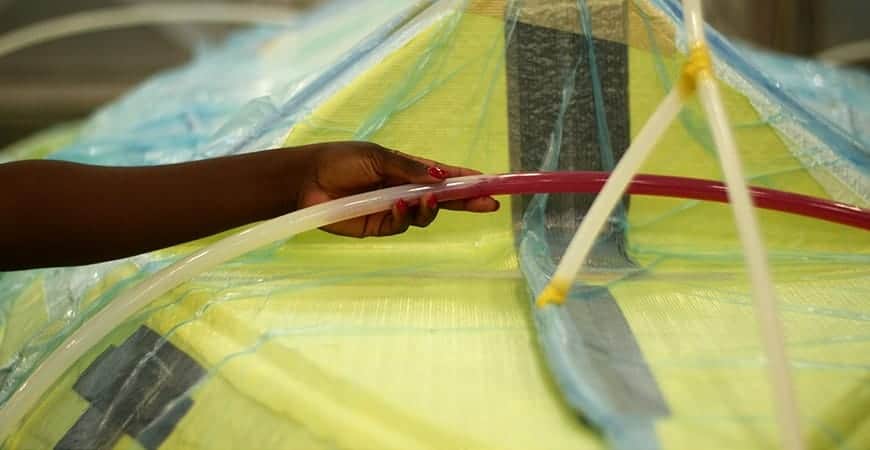 Epoxy-Infused Hull
The Epoxy-Infused hull using Carbon Fiber/E-Glass provides improved superior structural stability, strength and a Class-A finish, creating unsurpassed performance.
Articulating Rocket Launchers
w/ SureShade
With the touch of a button, you can electronically raise or lower the hardtop mounted rocket launchers. When the Sure Shade retractable awning is deployed, the rocket launchers will also lower electronically. Having the rocket launchers articulate not only provides an added unique feature to the boat, but also helps with ease of loading/unloading rods.
(optional equipment)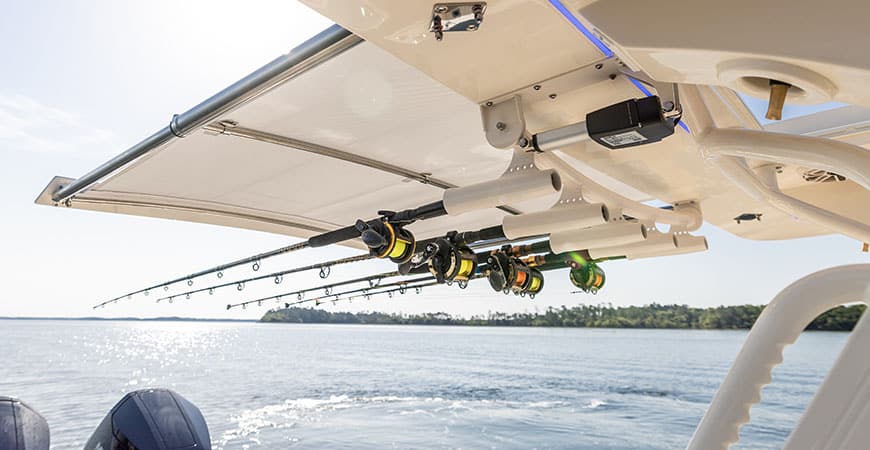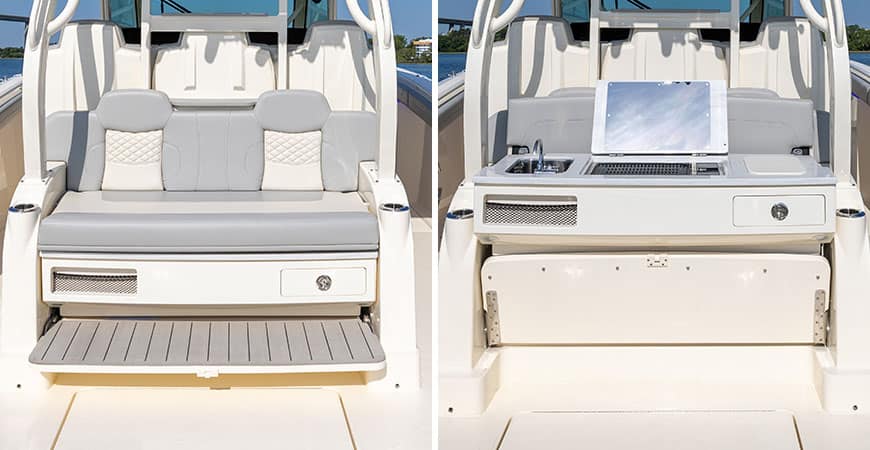 Electronically-Actuated Convertible Hideaway Entertainment Station / Mezzanine Seat Patent-Pending
Patent-pending. Push a button and the aft-facing mezzanine seat & foot rest fold up to reveal an entertainment/bait prep station complete with hidden sink, cutting board, grill, tackle drawer and storage. Incredible space-saving, unique design that completely transforms the utility of your boat in mere seconds.
(optional equipment)
Digital Helm
Control on-board systems with the touch of a screen. Your Garmin screens encased in glass bezels provide the technological touch you've come to expert, as well as the seamless, modern styling they represent.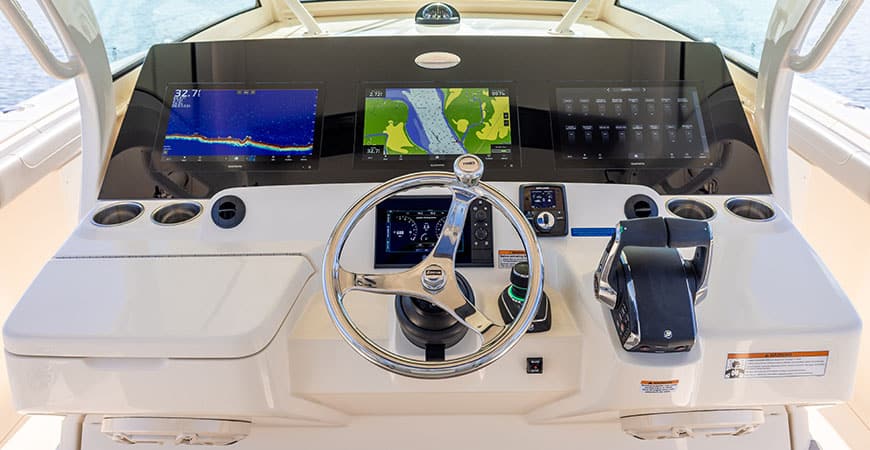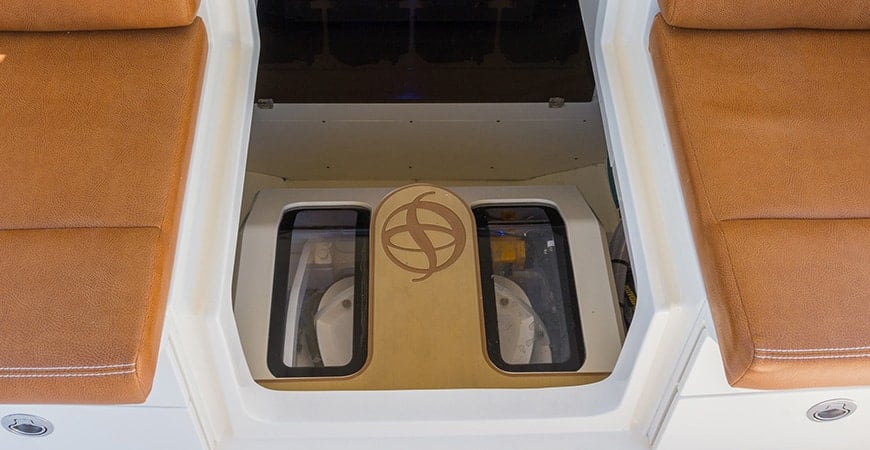 Seakeeper Gyro Stabilizer System
Fully integrated into the 400 LXF, your standard Seakeeper 3 DC Gyro Stabilizer will provide you incredible comfort out on the water. Spin it up, and enjoy stability in the open seas as if you were on solid ground.
(optional upgrade to Seakeeper 6)
Helm Heated Seats
Additional comfort provided with our standard heated helm seats feature.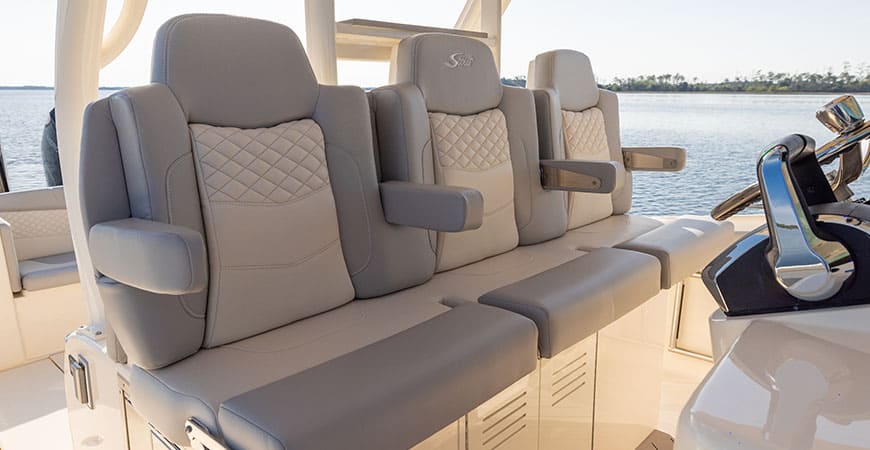 400 LXF Performance Bulletins
400 LXF
Mercury Quad 400 V10s w/ Seakeeper
400 LXF
Mercury Twin 600s w/ Seakeeper