We're more than just aesthetically-pleasing designs. It's our innovative hulls and manufacturing techniques that further separate us from the competitors.
For the past five decades, there's been minimal change in the ways boats have been built across the industry. Competitors' use of chopper guns, inferior materials, and low quality standards - masked behind a "if it's not broken, don't fix it" philosophy - is not something we've ever agreed with or been a part of. (Just another reason why all of our models have always been 100% hand-laid, with completely finished lids, hatches, and bilges.)
To provide a superior product, we developed innovative hull designs that are used across our line-up: NuV3, Air Assist, and Scout Stepped Hull Technology.

As we designed larger LXF's, and our LXZ model (luxury center console and crossover models 33' and up), we took a hard look at our manufacturing processes. We made a critical decision to introduce cutting-edge Epoxy Infusion and Carbon Epoxy Construction techniques into these highest-performing Scout Stepped Hull models, while simultaneously pairing them with the finest sophisticated blend of appointments and technologies. Our S-Class Series was born. S-Class signifies the upper echelon of our line-up - the highest level of luxury - similar to what you experience with high-end luxury automobiles. Our S-Class denotes the most superior model for our customers, and a pedestal for our competitors to chase.
Most Competition Hulls (Not Scout)
Traditional
Chopper Gun Construction
50-year Old Technology
Chopper Gun Construction
10-20% Weight Variance
Poor/Inconsistent Profile
Approx. 90% of Boats Built Today Use Some Form of This Process
Approx. Cost to Build = $1.48/lb
Approx. Weight = 4.2 lbs/sq ft
Stiffness = 16.5K lb-sq in/in
Post Cured During Ownership
BEST
Epoxy-Infused E-Glass
(Scout 33'-35')
Advanced Technology
Epoxy Infused E-Glass
2-3% Weight Variance
Great Profile
Approx. 3% of Boats Built Today Use This Process
Approx. Cost to Build = $5.20/lb
Approx. Weight = 2.4 lbs/sq ft
(Approx. 34% Lighter than Traditional)
Stiffness is approx. 4X Stiffer than Traditional
Post Cured in the Mold w/ Thermo Couplers
Simply put, these Epoxy Infusion and Carbon Epoxy Construction processes are industry bar-raising manufacturing processes. Our 33' and up models utilizing these processes are built like a tank but perform like a jet. These techniques have been used in the aerospace industry for years but have typically been a historically-unpopular process to marine manufacturers for numerous reasons: materials cost, labor skill, and lack of technology to implement, just to name a few. Less than 1% of marine manufacturers utilize these processes.
The hulls of our 330 LXF, 350 LXZ & 355 LXF are epoxy-infused by attaching multiple feeder lines which are monitored by our skilled craftspeople to inject the exact amount of epoxy necessary into the fiberglass and core; then they are vacuum bag infused (creating the strongest epoxy-to-glass ratio possible), eliminating air pockets and preventing unnecessary excess epoxy. Once fully infused, they are then baked at 135°-140°F for eight hours to post-cure the hull while they're still secured in the mold.
We take this process even further on the hulls of our 377 LXF, 400 LXF & 425 LXF, where we use Carbon Fiber/E-Glass as the main material used in the Epoxy Infusion process. Our 350 LXZ also utilizes this process on its deck, hardtop, and console pan & liner; and our 530 LXF is built using this process on not only the hull, but also the deck, hardtop, and flybridge superstructure!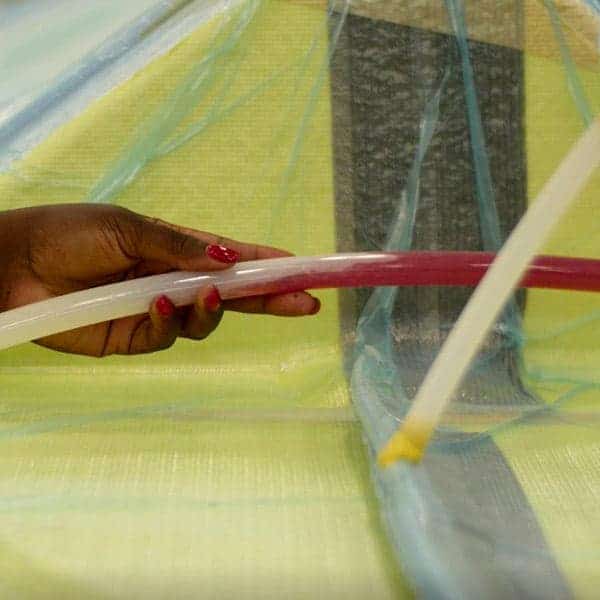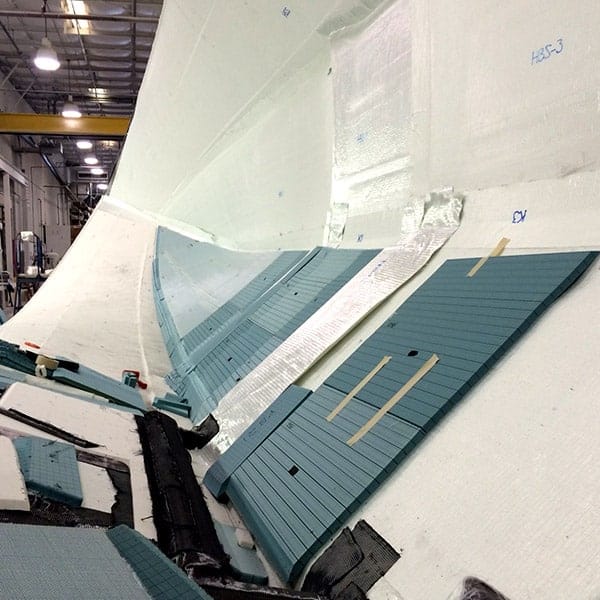 But why use this process in the first place if it's more expensive? The answer is abundantly clear when you realize the strength-to-weight ratios of the models. They're second to none. They disprove the old saying "a larger boat is just heavier and inefficient, therefore needing more horsepower to push it." Our Epoxy Infusion Construction process removes the brittle, excess fat of the resin to create a boat that weighs a little less when compared to other outdated competitor processes, but at the same time provides an even stronger, more stable structure. With a lighter, stronger stepped hull comes higher performance. This is the reason our models consistently out-perform competitive models in their class while being rigged with equal (or even less) horsepower. High performance with increased fuel efficiency and cruising speeds (not to mention cost savings both at the pump as well as the overall cost of owning the boat).
We have stronger, sexier, faster hulls… and yet there's still one more reason we instituted these cutting-edge manufacturing processes, and that brings us back to aesthetics. The Epoxy Infusion Construction process allows us to create large, stunning hull profiles (even black) while maintaining a "Class-A finish".
Yes, these processes and the associated material costs are not cheap. It certainly costs us more to build a boat this way, but we've always been about being the very best and on the cutting-edge while using superior materials and the highest-skilled craftspeople to create the most incredible experience on the water for you.